Home » Musica » Classifiche » Classifica House »
Classifica House Gennaio 2016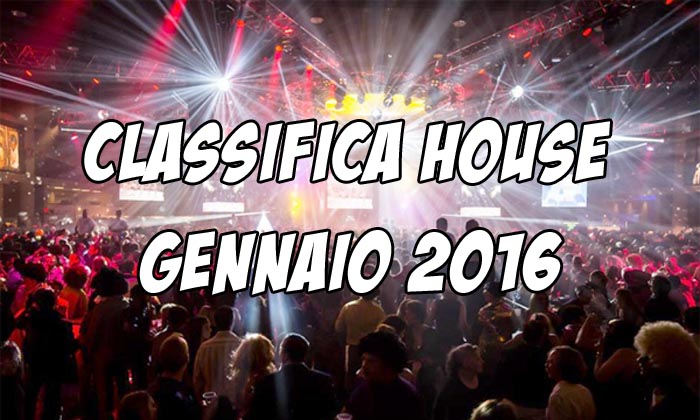 Di Marco "Bounty" Di Prospero
3 gennaio 2016
Tanta Uagna per tutti ragazzi, anche questo mese siamo tornati con la nostra classifica dedicata alle migliori canzoni house, selezionate per voi sulla base di diversi siti specializzati, tra cui Beatport, M2o o Spinning Records. Prima di iniziare, vi ricordiamo che per sentire una canzone, non dovrete far altro che cliccare su "ascoltala in streaming". Bene, non perdiamo altro tempo e iniziamo subito con la Classifica house di Gennaio 2016. Buona lettura ma, soprattutto, buon ascolto.
1.Tiësto & Tony Junior – Get Down
2.Toby Green – Move
3.Antoine Delvig & Walcus – Say What
4.Norman Doray – Street Sounds
5.Chachi & Paige – Land Down Under
6.Mike Hawkins & 7 Skies – World On Fire
7.Lucky Charmes – Fulfill
8.Don Diablo – I'll House You ft. Jungle Brothers (VIP Mix)
9.Cedric Gervais – De Ja Vu
10.Borgeous & Zaeden – Yesterday
11.Quintino & Yves V – Unbroken
12.Apster & NLW – Soundboy
13.D.O.D & Futuristic Polar Bears – Why
14.KSHMR & Marnik – Bazaar
15.Showtek & Eva Shaw – N2U (feat. Martha Wash)
16.Styline – Rose
17.Felguk & Lazy Rich – Dance To The Beat
18.Dr. Kucho! vs Gregor Salto vs Lucas & Steve – Love Is My Game
19.Felix Jaehn feat. Lost Frequencies & Linying – Eagle Eyes (Joe Stone Remix)
20.FTampa & Sex Room – Lifetime
Marco "Bounty" Di Prospero

Sono uno studente di economia e commercio che ama passare parte del tempo libero davanti ad una console. Considero il videogioco come una forma d'arte, in grado di trasmettere valori e emozioni, che permette di "mettere in pausa" la vita stressante di tutti i giorni. Spero di poter condividere con tutti voi questa mia passione e di farvi conoscere il mondo del gaming.