Home » Musica » Classifiche » Classifica Dance »
Classifica Dance 2 Novembre 2011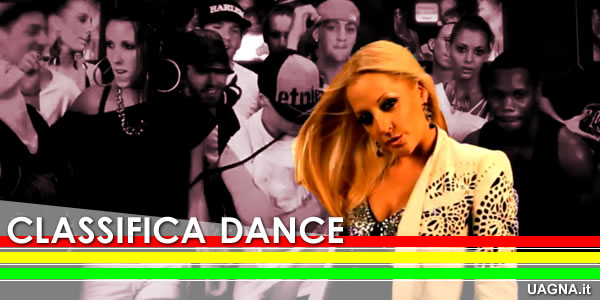 Di Federico "Blue" Marchetti
2 Novembre 2011
Carolina Marquez è tornata al top assieme al suo cast d'eccezione nella sua nuovissima hit aggiudicandosi di fatto la vetta della classifica dance di novembre 2011 che ci riserverà delle sorprese nei prossimi giorni… Stay tuned!
CAROLINA MARQUEZ feat. LIL WAYNE – Weekend (Wicked Wow)
Mike Candys & Evelyn feat Patrick Miller – One Night In Ibiza
Cristian Marchi & Gianluca Motta – Love Comes Rising
Klaas & Bodybangers – I Like
Chris Brown & Benny Benassi – Beautiful People
David Guetta – Little Bad Girl
Jennifer Lopez – Papi
Nayer Ft. Pitbull & Mohombi – Suave (NEW!)
Inna – Club Rocker
R.I.O. feat. U-JeanTurn This Club Around
Alexandra Stan – Get Back
David Guetta ft Flo Rida & Nicki Minaj Where Them Girls At
Don Omar – Danza Kuduro ft. Lucenzo
RUDEEJAY & FREAKS JAM – The Rhythm Is Magic
Special D. Pres. Psychonautn – Ich Explodier
Coco Fay – Not The Same
Taio Cruz ft. Flo Rida – Hangover (NEW!)
SAHARA feat. SHAGGY – Champagne
Gabry Ponte feat. Zhana – Skyride
Spencer & Hill – 2 Kisses Of You
Federico "Blue" Marchetti

Press play on tape: cresciuto a suon di C64 e Coin-op, mi diverto a seguire l'evoluzione videoludica next-gen. Co-Founder dell'universo Uagna, ho lavorato a fondo per far nascere una community videoludica di successo ma differente dalle altre esistenti. "Sono sempre pronto ad imparare, non sempre a lasciare che mi insegnino".