Home » Musica » Classifiche » Classifica Dance »
Classifica Dance Aprile 2012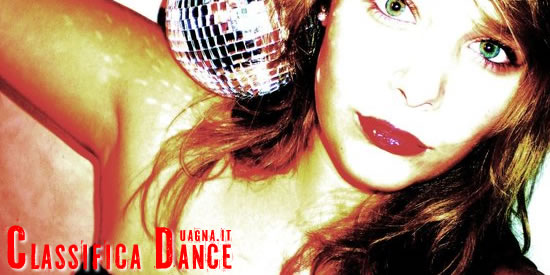 Di Federico "Blue" Marchetti
3 Aprile 2012
Aprile è arrivato ed iniziamo ad entrare nel vivo di questo 2012. E' giunto il momento dunque di salutare un pò alla volta le varie hit commerciali dell'anno appena passato e portare una ventata di new entry nella classifica dance di Aprile 2012 … e non dimenticate di segnalarci le vostre canzoni preferite per la nostra chart dance… Stay tuned!
Dj Antoine feat The Beat Shakers – Ma Cherie 2k12
Rico Bernasconi – Hit The Dust '12 (NEW!)
Bob Sinclar feat. Pitbull and DragonFly and Fatman Scoop – Rock The Boat
Michel Telo – Ai Se Eu Te Pego (Marco Corona Re-Edit Bootleg)
Madonna – Give Me All Your Luvin' (NEW!)
Dimaro Rosette – Ready for tonight (NEW!)
DJ M.E.G. Feat. BK – Make Your Move
Nicky Minaj – Starships (NEW!)
Nayer Ft. Pitbull & Mohombi – Suave
Mike Candys & Evelyn feat Patrick Miller – One Night In Ibiza
Modana & Carlprit – Party Crash
DJane HouseKat feat. Rameez – My Party
David Guetta featuring Nicki Minaj – Turn Me On (NEW!)
Taio Cruz ft. Flo Rida – Hangover
Alexandra Stan feat. Carlprit – One Million
Inna – Caliente (NEW!)
Spencer & Hill & Nadia Ali – Believe It (Cazette's Mix)
Cascada – Summer of love (NEW!)
Darin – Nobody Knows (NEW!)
Claudia & Fatman Scoop – Just A Little Bit (Spencer & Hill Airplay Edit)
Federico "Blue" Marchetti

Press play on tape: cresciuto a suon di C64 e Coin-op, mi diverto a seguire l'evoluzione videoludica next-gen. Co-Founder dell'universo Uagna, ho lavorato a fondo per far nascere una community videoludica di successo ma differente dalle altre esistenti. "Sono sempre pronto ad imparare, non sempre a lasciare che mi insegnino".