Home » Musica » Classifiche » Classifica Dance »
Classifica Dance Commerciale – Novembre 2012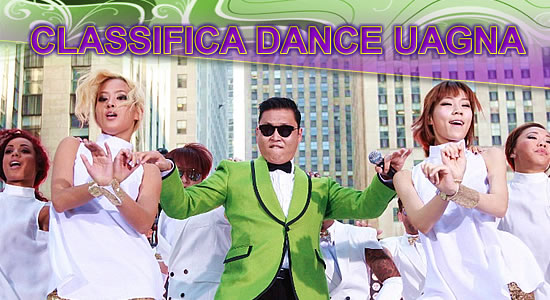 Di Federico "Blue" Marchetti
2 Novembre 2012
Un vero e proprio tormentone mediatico diffusosi viralmente sul web e talmente contagioso da essere protagonista di numerosi flash mob in italia, stiamo parlando di Gangnam Style (guarda il video remake di Gangnam Style). Complice un sound allegro e sempre piu' coinvolgente ogni volta che lo si ascolta, questa canzone non poteva non essere al primo posto della classifica Dance commerciale di Novembre 2012 sbaragliando nomi ben piu' conosciuti ed altisonanti di questo settore musicale. Per quanto ancora durerà l'effetto Gangnam Style? …  Stay tuned!
Psy – Gangnam Style
Fly Project – Musica
Nicki Minaj – Pound The Alarm
Flo Rida – I Cry
Deadmau5 ft. Gerard Way – Professional Griefers
Molella – Let me give you more (Original mix)
Serebro – Mama lover
Tom Boxer & Morena feat. J Warner – Deep In Love
Kylie Minogue – Timebomb
Remady & Manu-L feat. Amanda Wilson – Doing It Right
Jennifer Lopez – Goin' In ft. Flo Rida
Dj Antoine feat The Beat Shakers – Ma Cherie 2k12
Simon from deep divas – Everybody's free
Scooter – 4 AM 
Gusttavo Lima – Balada (Tche Tcherere Tche Tche)
Mike Candys feat. Evelyn and Patrick Miller – 2012
Owl City & Carly Rae Jepsen – Good Time
Alex Kenji & Ron Carroll – Good Time
Giulietto Kronika & DeeJay Trip – Bara Bará Bere Berê
Pitbull – Get It Started ft. Shakira
Federico "Blue" Marchetti

Press play on tape: cresciuto a suon di C64 e Coin-op, mi diverto a seguire l'evoluzione videoludica next-gen. Co-Founder dell'universo Uagna, ho lavorato a fondo per far nascere una community videoludica di successo ma differente dalle altre esistenti. "Sono sempre pronto ad imparare, non sempre a lasciare che mi insegnino".