Home » Musica » Classifiche » Classifica House »
Classifica House Settembre 2015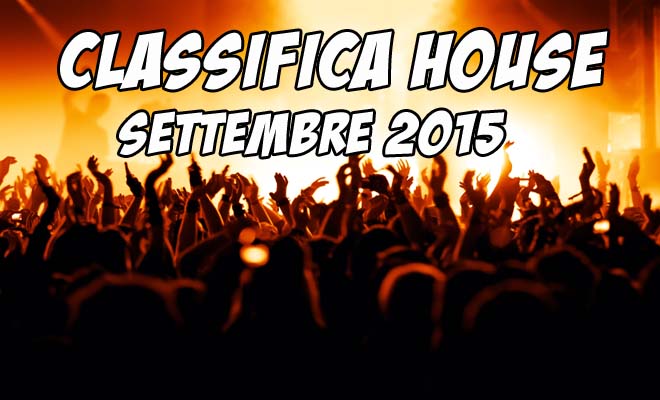 Di Marco "Bounty" Di Prospero
1 Settembre 2015
E tanta Uagna per tutti, quest'oggi siamo qui per presentarvi la Classifica House di Settembre 2015. Vi presenteremo le migliori 20 canzoni del mese, le più ballate e le più diffuse da siti specializzati come Beatoport. Per riprodurre le canzoni vi basterà semplicemente cliccare sulla scritta "ascoltala in streaming". Vi auguriamo una buona permanenza sul sito e restate sintonizzati su Uagna per non perdervi il prossimo appuntamento con la Classifica House, che sarà aggiornata ogni primo del mese. Vi ricordiamo inoltre che sempre su Uagna, potrete consultare anche la Classifica Dance, realizzata dal nostro Mr.Blue.

W&W and MOTi – Spack Jarrow
Tiësto & KSHMR – Secrets Feat. Vassy (Don Diablo's VIP Mix)

Dj Sign – Deep it
Amtrak – Hold on
Ummet Ozcan ft. Katt Niall – Stars

Love&Logic – Bicycle Seat

King Arthur feat. Michael Meaco – Praise You

SAINT WKND feat. INGLSH – Lost (Runaway)

Alex Gaudino – I'm Movin' (Alex Gaudino & Dyson Kellerman Mix)

Quintino – Devotion

Alex Kenji, Federico Scavo – Never Give Up (Code3000 Remix)

Julian Jordan – Lost Words

My digital enemy – Don't give up

Rondé – Run (East & Young Remix)

Fabian Arche Vs. Chris Garcia – Speak Out  
Wally Lopez – Close to the Heavens Door
DJ Sneak – Eve With Champagne
Fox Stevenson & Curbi – Hoohah

Ferreck Dawn – Jolene

Raving George feat. Oscar And The Wolf – You're Mine
Marco "Bounty" Di Prospero

Durante il giorno dipendente presso una società finanziaria. La sera nerd e videogiocatore. Per me l'intrattenimento videoludico è una forma d'arte grazie alla quale poter fantasticare e staccare la spina dallo stress giornaliero. Cresciuto a suon di Mortal Kombat, Metal Gear Solid e Resident Evil.