Home » Musica » Classifiche » Classifica House »
Classifica Commercial House – Progressive & Alternative – Marzo 2013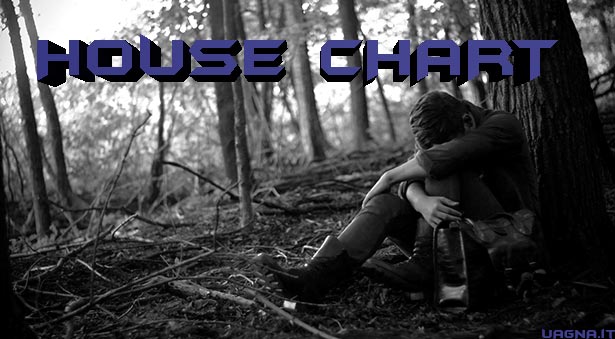 Di Andrea White Mezzelani
8 Marzo 2013
Nuova classifica House di Marzo 2013 che vede al primo posto "I Follow Rivers" di Lykke Li (The Magician Remix). Nella seconda posizione della nostra House Chart troviamo Armin van Buuren con "D# Fat" e al terzo posto troviamo I Could Be The One di Avicii & Nicky Romero. 
ENJOY IT 
Lykke Li – I Follow Rivers (The Magician Remix)

Armin van Buuren & W&W – D# Fat (Original Mix)

Avicii vs Nicky Romero – I Could Be The One (Nicktim)
Afrojack – Annie's Theme (Original Mix)

GTA, Henrix & Digital Lab – Hit It (Original mix)

 
Hardwell Feat. Amba Shepherd – Apollo

Lana Del Rey – Summertime Sadness (Cedric Gervais Remix)

Fatboy Slim – Right Here, Right Now (Coyu remix)

Sander van Doorn – Joyenergizer

Ben Pearce – What I Might Do

Tujamo – There It Is (David Jones Mix)

Avicii  – Last Dance

Inner Life – Ain't No Mountain High Enough (WhiteNoize Remix)

Hardwell ft. Mitch Crown – Call Me A Spaceman

Chris Lake & Michael Woods – Black Thong (Radio Edit)

Hot Natured & Ali Love – Benediction

Feelhype – Hinsanity (Provenzano Dj Show)

Nicky Romero & NERVO – Like Home

Dimitri Vegas & Like Mike – Wakanda

Disclosure – Latch feat. Sam Smith

Andrea White Mezzelani

Drogato di cinema e cresciuto a "pane e videogames". Nel cinema cerco qualità che troppo spesso ultimamente lascia posto ad una commercializzazione sfrenata. I videogiochi sono il futuro dell'intrattenimento; sarebbe stupido pensare altrimenti e speriamo che in Italia questa consapevolezza si espanda. La musica da sempre mi appassiona, ascolto di tutto e lego particolari momenti a delle canzoni che diventano, così, vere e proprie colonne sonore della mia vita. Adoro informarmi, conoscere e sperimentare.