Home » Videogiochi » Trucchi »

Ak-74u – Call of Duty
Ak-74u – Call of Duty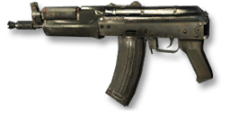 Di Filippo Giaccaglia
27 Febbraio 2011
AK-74u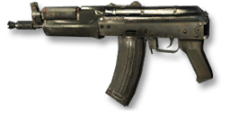 MODALITA' MULTIGIOCATORE
COSTO BLACK OPS: 2000 

, 1200(zombie)
DANNO: 7 /10
PORTATA: 8 /10
PRECISIONE: 7 /10
MOBILITA': 10 /10
RATEO: 750 RPM
LIV SBLOCCO : 17
MUNIZIONI INIZIALI: 90 (Multigiocatore)
MUNIZIONI MAX: 240 (Multigiocatore), 300 (singolo)
TEMPO DI RICARICA:  2.1 sec (carica), 2.8 sec (scarica)
PENETRAZIONE: Bassa
TIPO DI FUOCO: Automatica
USATO DA: Viet Cong, Soviet Armed Forces (Spetsnaz)
MODALITA' ZOMBIE
| | AK-74u | AK-74fu2 |
| --- | --- | --- |
| IMMAGINE | | |
| DANNO | 120-80 | 190-140 |
| TIPO DI FUOCO | Automatica | Automatica |
| RATEO DI FUOCO | 750 | 750 |
| CAPACITA' CARICATORE | 20 | 40 |
| MUNIZIONI MAX | 160+20 | 280+40 |
| TEMPO DI CARICA | 2.1 sec , 2.8 sec (scarica) | 2.1 sec , 2.8 sec (scarica) |
| MOBILITA' | Alto | Alto |
| EXTRA | | Danno elevato, Caricatori capienti,più munizioni, Mirino Red Dot |
| | AK-74u | AK-74fu2 |
| --- | --- | --- |
| Image | | |
| Damage | 120-80 | 190-140 |
| Fire mode | Automatic | Automatic |
| Rate of fire | 750 | 750 |
| Magazine size | 20 | 40 |
| Max ammo | 160+20 | 280+40 |
| Reload | 2.1, 2.8 empty | 2.1, 2.8 empty |
| Mobility | High | High |
| Extras | | Higher damage, larger magazine, more ammo, Red dot sight |
MP5k vs MP115 KolliderEdit
| | MP5k | MP115 Kollider |
| --- | --- | --- |
| Image | | |
| Damage | 100-50 | 140-80 |
| Fire mode | Automatic | Automatic |
| Rate of fire | 750 | 750 |
| Magazine size | 30 | 40 |
| Max ammo | 120+30 | 200+40 |
| Reload | 2.9, 3.2 empty | 2.9, 3.2 empty |
| Mobility | High | High |
| Extras | | Higher damage, larger magazine, more ammo |
MP40 vs The AfterburnerEdit
| | MP40 | The Afterburner |
| --- | --- | --- |
| Image | | |
| Damage | 100-60 | 200-120 |
| Fire mode | Automatic | Automatic |
| Rate of fire | 535 | 535 |
| Magazine size | 32 | 64 |
| Max ammo | 192+32 | 192+64 |
| Reload | 2.3, 2.9 empty | 2.3, 2.9 empty |
| Mobility | High | High |
| Extras | | Higher damage, larger magazine |
| | MPL | MPL-LF |
| --- | --- | --- |
| Image | | |
| Damage | 100-60 | 140-90 |
| Fire mode | Automatic | Automatic |
| Rate of fire | 937 | 937 |
| Magazine size | 24 | 40 |
| Max ammo | 120+24 | 200+40 |
| Reload | 2.25, 3 empty | 2.25, 3 empty |
| Mobility | High | High |
| Extras | | Higher damage, larger magazine, more ammo, Red dot sight |
PM63 vs Tokyo and RoseEdit
| | PM63 | Tokyo and Rose |
| --- | --- | --- |
| Image | | |
| Damage | 100-60 | 140-90 |
| Fire mode | Automatic | Automatic |
| Rate of fire | 937 | 937 |
| Magazine size | 20 | 25 |
| Max ammo | 100+20 | 225+50 |
| Reload | 2.05, 2.85 empty | 3, 3.4 empty |
| Mobility | High | High |
| Extras | | Higher damage, larger magazine, more ammo, Dual wield |
| | Spectre | Phantom |
| --- | --- | --- |
| Image | | |
| Damage | 90-50 | 130-80 |
| Fire mode | Automatic | Automatic |
| Rate of fire | 937 | 937 |
| Magazine size | 30 | 45 |
| Max ammo | 120+30 | 225+45 |
| Reload | 2.3, 3 empty | 2.3, 3 empty |
| Mobility | High | High |
| Extras | | Higher damage, larger magazine, more ammo, Reflex |
Light Machine GunsEdit
HK21 vs H115 OscillatorEdit
| | HK21 | H115 Oscillator |
| --- | --- | --- |
| Image | | |
| Damage | 150-110 | 210-150 |
| Fire mode | Automatic | Automatic |
| Rate of fire | 535 | 535 |
| Magazine size | 125 | 150 |
| Max ammo | 500+125 | 750+150 |
| Reload | 3.75, 4.75 empty | 3.75, 4.75 empty |
| Mobility | Low | Low |
| Extras | | Higher damage, larger magazine, more ammo |
RPK vs R115 ResonatorEdit
| | RPK | R115 Resonator |
| --- | --- | --- |
| Image | | |
| Damage | 130-90 | 180-130 |
| Fire mode | Automatic | Automatic |
| Rate of fire | 750 | 750 |
| Magazine size | 100 | 125 |
| Max ammo | 400+100 | 500+125 |
| Reload | 4, 5.5 empty | 4, 5.5 empty |
| Mobility | Low | Low |
| Extras | | Higher damage, larger magazine, more ammo |
Sniper RiflesEdit
| | Dragunov | D115 Disassembler |
| --- | --- | --- |
| Image | | |
| Damage | 300 | 1000 |
| Fire mode | Semi-automatic | Semi-automatic |
| Rate of fire | 234 max | 234 max |
| Magazine size | 10 | 10 |
| Max ammo | 40+10 | 80+10 |
| Reload | 2.95, 3.75 empty | 2.95, 3.75 empty |
| Mobility | Medium | Medium |
| Extras | | More damage, more ammo, Variable zoom |
| | L96A1 | L115 Isolator |
| --- | --- | --- |
| Image | | |
| Damage | 500 | 1000 |
| Fire mode | Bolt-action | Bolt-action |
| Rate of fire | ~60 | ~60 |
| Magazine size | 5 | 8 |
| Max ammo | 45+5 | 72+8 |
| Reload | 3.3, 3.5 empty | 3.3, 3.5 empty |
| Mobility | Medium | Medium |
| Extras | | Higher damage, larger magazine, more ammo, Variable zoom |
HS-10 vs Typhoid and MaryEdit
| | HS-10 | Typhoid and Mary |
| --- | --- | --- |
| Image | | |
| Damage | 1280 max | 2400 max |
| Fire mode | Semi-automatic | Semi-automatic |
| Rate of fire | 340 max | 340 max |
| Magazine size | 6 | 8 |
| Max ammo | 36+6 | 80+16 |
| Reload | 0.567 for each shell | 3, 3.4 empty |
| Mobility | High | High |
| Extras | | Higher damage, larger magazine, more ammo, Dual wield |
| | Olympia | Hades |
| --- | --- | --- |
| Image | | |
| Damage | 80×8 | 300×8 |
| Fire mode | Double-barrel | Double-barrel |
| Rate of fire | 212 max | 212 max |
| Magazine size | 2 | 2 |
| Max ammo | 38+2 | 60+2 |
| Reload | 3.3, 3.9 empty | 2, 2.5 empty |
| Mobility | High | High |
| Extras | | Higher damage, quicker reload, more ammo, Incendiary Rounds/Dragon's Breath (fire damage) |
| | SPAS-12 | SPAZ-24 |
| --- | --- | --- |
| Image | | |
| Damage | 1280 max | 2400 max |
| Fire mode | Semi-automatic | Automatic |
| Rate of fire | 312 max | 312 |
| Magazine size | 8 | 24 |
| Max ammo | 32+8 | 72+24 |
| Reload | 0.567 for each shell | ~1 |
| Mobility | High | High |
| Extras | | Higher damage, larger magazine, more ammo, reloads in one shell, becomes fully automatic |
| | Stakeout | Raid |
| --- | --- | --- |
| Image | | |
| Damage | 120×8 | 240×10 |
| Fire mode | Pump-action | Pump-action |
| Rate of fire | ~70 | ~70 |
| Magazine size | 6 | 10 |
| Max ammo | 54+6 | 60+10 |
| Reload | 0.567 for each shell | 0.567 for each shell (2 shells reloaded at a time) |
| Mobility | High | High |
| Extras | | Higher damage, more range, bigger magazine, more ammo, reloads 2 shells at once, Grip |
LaunchersEdit
| | China Lake | China Beach |
| --- | --- | --- |
| Image | | |
| Damage | 600 | 1000 |
| Fire mode | Pump-action | Pump-action |
| Rate of fire | 60 | 60 |
| Magazine size | 2 | 5 |
| Max ammo | 20+2 | 40+5 |
| Reload | 1 for each grenade | 1 for all grenades |
| Mobility | Very Low | High |
| Extras | | More damage, larger magazine, more ammo, reload all grenades at once, higher mobility, does not need to ADS when firing,faster Pump-action |
| | M72 LAW | M72 Anarchy |
| --- | --- | --- |
| Image | | |
| Damage | 2000 | 3000 |
| Fire mode | Single-shot | Semi-automatic |
| Rate of fire | N/A | 56 max |
| Magazine size | 1 | 10 |
| Max ammo | 20+1 | 40+10 |
| Reload | 3 | 3 |
| Mobility | Very Low | High |
| Extras | | Higher damage, more ammo, semi-automatic with 10 shot capacity, higher mobility, does not need to ADS when firing |
Special WeaponsEdit
| | Ballistic Knife | The Krauss Refibrillator |
| --- | --- | --- |
| Image | | |
| Damage | 500 | 1000 |
| Fire mode | Single-shot | Single-shot |
| Rate of fire | N/A | N/A |
| Magazine size | 1 | 1 |
| Max ammo | 4+1 | 9+1 |
| Reload | 1.5 | 0.75 |
| Mobility | High | High |
| Extras | | More damage, more ammo, quicker reload, when a downed player is shot, he/she is revived instantly |
| | Crossbow | Awful Lawton |
| --- | --- | --- |
| Image | | |
| Damage | 200 – 75 Explosion, 50 Direct Impact | 750 |
| Fire mode | Single-shot | Single-shot |
| Rate of fire | Single-shot then rechamber | Single-shot then rechamber |
| Magazine size | 1 | 1 |
| Max ammo | 12+1 | 12+1 |
| Reload | 2.75 | 2.75 |
| Mobility | Medium | Medium |
| Extras | | More damage, takes longer to explode, crossbow bolts act like Monkey bombs, attracting zombies (capable of killing up to six zombies at a time). |
Wonder WeaponsEdit
Ray Gun vs Porter's X2 Ray GunEdit
| | Ray Gun | Porter's X2 Ray Gun |
| --- | --- | --- |
| Image | | |
| Damage | 1000 | 2000 |
| Fire mode | Automatic | Automatic |
| Rate of fire | 181 | 181 |
| Magazine size | 20 | 40 |
| Max ammo | 160+20 | 200+40 |
| Reload | 3 | 3 |
| Mobility | High | High |
| Extras | | More damage through multipliers, double magazine, more ammo, Sight turns to green, red, yellow, or blue |
| | Thunder Gun | ZeusCannon |
| --- | --- | --- |
| Image | | |
| Damage | Infinite (will instantly kill any zombie thrown backward) | Infinite (will instantly kill any zombie thrown backward) |
| Fire mode | Semi-automatic | Semi-automatic |
| Rate of fire | 100 max | 100 max |
| Magazine size | 2 | 4 |
| Max ammo | 12+2 | 24+4 |
| Reload | 2 empty | 2 empty |
| Mobility | High | High |
| Extras | | More damage, larger area affected, larger magazine, more ammo |
| | Winter's Howl | Winter's Fury |
| --- | --- | --- |
| Image | | |
| Damage | 0 (any zombie frozen will be weakened greatly) | 0 (any zombie frozen will be weakened greatly) |
| Fire mode | Semi-automatic | Semi-automatic |
| Rate of fire | 181 max | 181 max |
| Magazine size | 6 | 9 |
| Max ammo | 30+6 | 36+9 |
| Reload | 3.8 | 3.8 |
| Mobility | High | High |
| Extras | | Higher damage, larger magazine, freezes more zombies, 1st shot slows affected zombies movement speed, 2nd shot encases affected zombies in a block of ice. |
Some Pack-a-Punch weapons have the number 115 in their name, a reference to Ununpentium.
A few Pack-a-Punch weapons have numbers that stand for letters, a reference to "leet-speak", a symbolic alphabet that uses a combination of ASCII characters to stand for letters (5 = S, 3 = E, |-| = H, etc.).
Read more
External Sponsor Links
Click here!Buy a sponsored link and description for your website on this page. Act quickly, the few sponsorship slots sell out fast!
Related Categories
Pages on Call of Duty Wiki

Add a Page 2,869pages on this wiki
Recent Wiki Activity
Latest Photos

Add a Photo 17,823photos on this wiki


More from


Around Wikia's network

Filippo Giaccaglia

Faccio video nel tempo libero, creo video per lavoro e la mia passione è fare video. Credo che si sia capito cosa mi piace fare.